Sacral architecture
Gudowo|Mielenko|Woliczno|Drawsko|Zarańsko|Suliszewo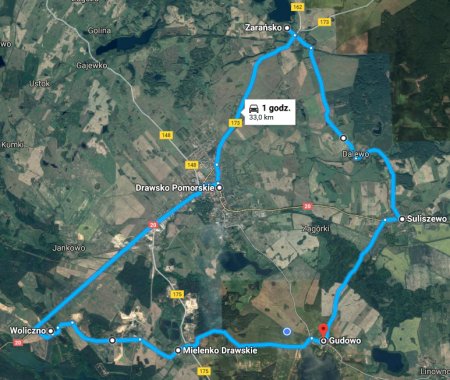 Churches are excellent examples of past styles and architectural concepts. Within the radius of 15 kilometers from the hotel there are 6 different churches, one unlike the other. Each built in a different style, in different times, each historic and worth visiting.
GUDOWO
Built in 1646 in place of a medieval temple. Currently neo-Gothic in style, made of brick, with a wooden tower. Inside there is a baroque high altar.
SULISZEWO
Reared up in the 18th century. Originally built with the use of post and beam construction, bricked up in the 1980s.
ZARAŃSKO
From the second half of the 19th century. Wholly built of hewn stone, it has a semi-circular apse. Next to the church there are remnants of a wooden bellfry.
DRAWSKO POMORSKIE
Big church made of brick, reared up at the turn of the 14th and the 15th centuries. It burnt down several times, and was rebuilt and re-edified throughout the centuries. It is neo-Gothic in style, with a well-preserved historic decor.
WOLICZNO
Small wattle and daub building from 1839 that is a so-called filial church. It was built in place of a stone temple. The carcass of the builidng is wooden with brick filling. The architecture of the church strongly alludes to the style of the then farm buildings.
MIELENKO DRAWSKIE
Former evangelical, single-nave church. It dilapidated for years, in danger of collapsing. In the years 2015-2016, it was refurbished.
Built in 1662 of wattle and daub.