Bad Polzin - Połczyn-Zdrój
43 km | 43-minute drive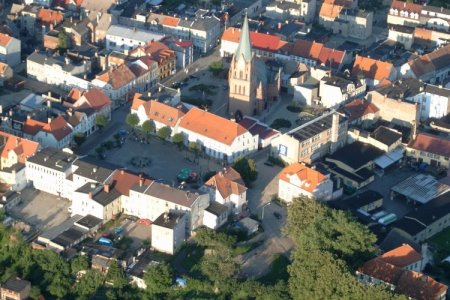 In 1688, a local weaver discovered a spring of mineral water, which soon became the basis of the spa function of the place. Patients started to come to the town, and as early as in 1705 Jakub von Krockow built for them the first health resort house. 130 years later the health resort park was created. Between 1870 and 1907, healing facilities, which function to this day, were built.
Until the end of WWII, you could reach Bad Polzin by rail directly from Berlin. Not many people know that Hitler's first quarters was here, that he came here by his armored train called America. The quarters was situated in the train station in Połczyn.
Today Połczyn-Zdrój is a climatic town square, which is the town's biggest treasure, the health resort park, a castle from the end of the 13th century, and healing microclimate. You can find here therapeutic mud, healing waters, and deposits of Permian saline waters.
Seemingly, the town square in Połczyn is nothing out of the ordinary. But when you take a closer look, you can see that the urban layout has not changed much for centuries. There are no modern structures or large-panel buildings. Instead, there is a net of streets, including the main pedestrian mall, and, besides that, the heart of the city, namely Wolności Square with a historic church, and a palace that people call castle. The castle, build in times of Duke Bogislaw IV, was later subjected to multiple alterations, and that is why the original appearance remains unknown. Nowadays, the building that has been thoroughly renovated plays a cultural role (i.a. it accomodates a library).